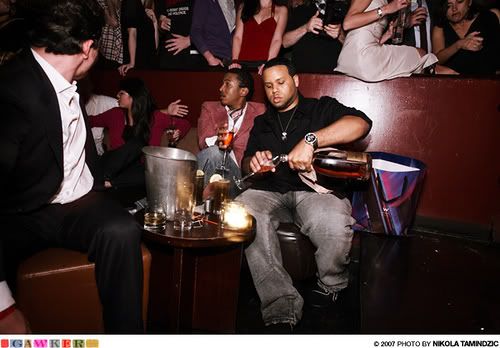 So, its a Saturday night. You and four of your boys from back home come out to Los Angeles to pay you a visit. Everyone is dressed in the latest gear from Abercrombie & Fitch, the Gap and perhaps Armani Exchange, with a gallon of cologne (to cover up the fact that you did not take a shower).
[**Side note: guys please take a shower. There maybe a fifty to fifty-five percentage chance that you'll find that girl, who is just drunk enough to sleep with you that night. Nothing will sober her up faster, than if you take off your pants and your balls smell like a bunch of old rubber bands.**]
Now, you all roll into Hollywood. Walk up to the velvet ropes at Les Deux, only to get hit with the old line, "Are you on the guest list tonight?" Right then and there, you and your posse should just turn around and walk away. However, you don't because you want to have a good time tonight.
You tell the door guy that you are not on the guest list and that you are trying to show your friends from out of town a good time......you know what that means right? You guessed it...."Bottle Service"...you tourist!!!!
You get suckered into handing over your credit card and ID, and for $2,000 + 20% gratuity... you are about to have the time of your life (or until 1:45am rolls around...whichever comes first).
Now, nothing is more attractive to single ladies, than a group of five guys at a table in a night club, with not another woman in sight anywhere. One of your buddies walks around the club and asks almost every girl he sees to come over to the table and help themselves to free drinks.
A few girls come over, begin to introduce themselves, share in a little bit of small talk, then begin to CONSUME all of your alcohol (of which you only had maybe two drinks). Ouch!!!
The next thing you know all your alcohol is gone, so are the girls at your table. You see the girls who were once at your table, now dancing on the dance floor with the guys they probably will be sleeping with later on.
Mean while, the bill comes and your credit card is now being charged $2,800. Ouch!!!
Now its last call, you and the crew begin to lower your standards and see if you can score a nice make out session with the chubby girls with the cute faces, because no one has been approaching them all night.
However, they only want to give you their cellphone numbers (of which you will never call them ever...well, maybe you'll keep it just in case of emergencies).
All-and-all, you and your crew just dropped a lot of money and have absolutely nothing to show for it.
Don't let this be you.
This was a clear example of why "Bottle Service is for Tourists."
Welcome to Hollywood tourists.
See you at the Universal Studios tour.