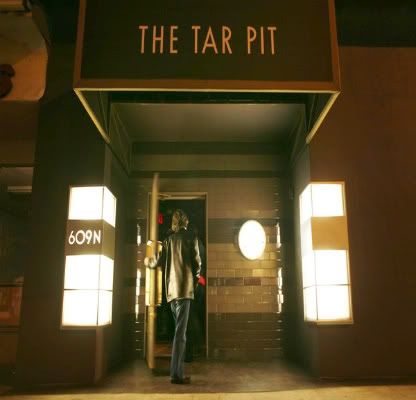 So, last night I met up with old friends at Cube (which is a small restaurant on La Brea, right below Melrose Ave).
We had dinner and after-wards are plan was to head over to this Hollywood nightlife spot.
As we were waiting for valet to bring our cars around, we noticed this place called Tar Pit Bar so we decided to peak our heads in to see what this place was all about.....WOW!!!!
First of all, I believe this place is a restaurant with a bar, however, the bar area was packed, and the surrounding outskirts area of the bar was full as well. The inside of this place looks like a combination of the old FOXTAIL lounge/restaurant and EAST lounge/restaurant. Everyone was extremely well dressed and the vibe there was extremely cool. So, needless to say we stayed there and grabbed a few drinks at the bar.
We had such a great time there that we skipped our original plans and just stayed there until 1:30am.
Now, even though the name of this place is called "Tar Pit Bar" it is more of a restaurant. Drinks were $12 and up, but the staff is super chill and our bartender comp'd us the last round of drinks (that fuck pretty fuckin dope on his part).
I am not being paid to say this, and you guys know how much I bash most places...but this spot is really cool.
It is not a real Hollywood type place, but the inside looks amazing and the bar area was cool. I didn't eat there so I can't say anything about the food, but try it and let me know if it's any good.
I say stop by there and check it out.
This will be my last post, until my next post.