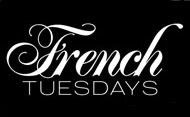 If you want to see what some of the ugliest people to party with in Hollywood look like, then by all means check out a "French Tuesday" event.
French Tuesdays are branded & marketed as an "exclusive", "members only" social club, whereby you have to have two current members basically vouch for you in order to be granted membership rights, etc.
I don't know about you....but if you ever get a chance to attend an actual French Tuesday party/event you will be glad that you are not a member.
First, the average age of a French Tuesday member is roughly 45 years old.
Second, the average French Tuesday member are the exact definition of a tourist.
They almost have to buy bottles in order to get into most Los Angeles/Hollywood venues. Better yet, the only way they even get a chance to see some of these venues is due in large part to the fact that French Tuesdays buys out the venue.
Third, did I mention that these are not the best looking people on the planet?
Now, I'm all for partying and having a good time, but I don't want to party with the people who work in the HR department or college admins. I mean some of these peeps are straight Euro trash or your local high school principal.
If you go to their website they will only show you a few pictures from their events, of which they hand selected the few non-members who are just ok looking.
The choice is yours.
However, DO NOT TAKE MY WORD FOR IT....GO SEE FOR YOURSELVES!!!!
Yuck...